Radon: We Track That!
Posted on

by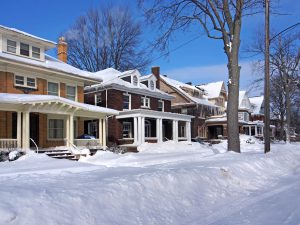 CDC's Tracking Network connects people with vital information on a variety of health and environmental topics. Learn how radon data and information help determine individual and community risk for radon and inform community interventions.
Environmental Public Health Tracking Network
CDC's Environmental Public Health Tracking Network (Tracking Network) is a dynamic surveillance system that provides information and data about environmental hazards and the health problems that may be related to them. The Tracking Network connects people with vital information on a variety of health and environmental topics, including radon.
Radon and Health
In the United States, radon is the second leading cause of lung cancer after smoking. The U.S. Environmental Protection Agency (EPA) estimates that radon causes over 20,000 lung cancer deaths each year.
Radon is a naturally occurring gas in rocks, soil, and groundwater that you cannot see, smell, or taste.
You can be exposed to it primarily from breathing in radon that comes in through cracks and gaps in buildings and homes.
Testing is the only way to know if radon levels are high in your home. The U.S. Surgeon General recommends ALL homes be tested for radon gas. If radon levels in your home are above 4 picocuries per liter (pCi/L), the EPA recommends taking action to reduce your exposure.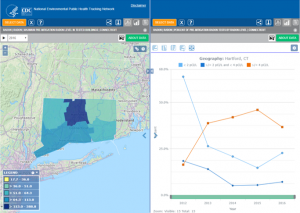 We Track That!
CDC's National Environmental Public Health Tracking Program (Tracking Program) recently added radon testing data to the Tracking Network. At this time, data are available only for some states and counties. However, the Tracking Program continues to work with partners to add data from more states. Key partners include state environmental and health agencies, universities, the American Association of Radon Scientists and Technologists, and the EPA.
With the addition of indoor air radon testing results data to the Tracking Network, users can access one resource to view standardized data for multiple states. Data on the Tracking Network are available at the state and county level and include:
the number of buildings tested,
number and percent of pre-mitigation tests by radon level,
number and percent of post-mitigation tests by radon level,
median pre-mitigation test levels of radon, and
maximum pre-mitigation levels of radon.
The following state Tracking programs have radon data that are not available on the Tracking Network at this time.
If your state is not included on the Tracking Network or listed above, you can find out more information about local radon zones and state contact information at EPA Map of Radon Zones.
Using Radon Data to Protect Communities
Collecting and tracking radon test data over time helps public health professionals identify areas with potentially high levels of radon and/or low testing rates. They can use that information to plan programs or services to assist communities in need. State tracking programs have developed tools, applications, and products that go beyond data and help improve the health of communities.
Here are a few examples.
New Hampshire Tracking increased radon testing through a radon testing media campaign.
Oregon Tracking created detailed radon hazard maps that increased radon testing.
See how the Washington Tracking Program's improved radon exposure risk maps help keep residents safe in this Tracking in Action video.
For more information about the risks of radon, and the importance of getting your home tested for radon, visit www.cdc.gov/radon/.
Tweet this: "CDC's National Environmental Public Health Tracking Program recently added radon testing data to its Tracking Network. Learn more at https://bit.ly/2QXAk5P #CDCEHblog via @CDCEnvironment. "
Posted on

by
---
Page last reviewed:
January 28, 2019
Page last updated:
January 28, 2019